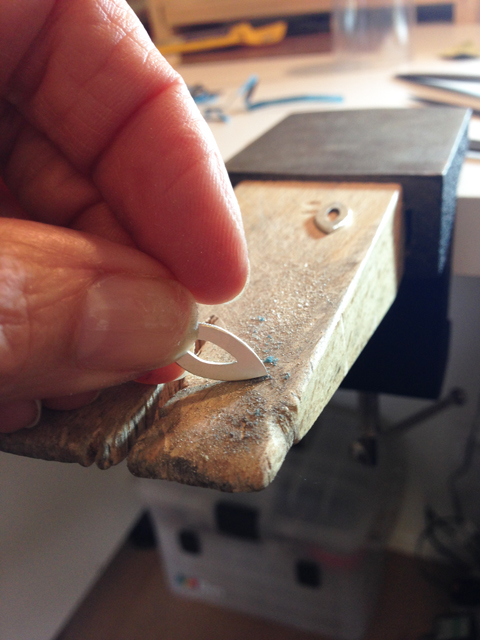 With such a vast array of jewellery available these days, I often ask myself and my customers why they come to me and what makes my work different.
One of the reasons that they talk about, alongside the uniqueness of my pieces, is that they like to buy jewellery with meaning.
Today I thought I'd focus on this aspect of my work and on custom jewellery in particular.
This is the story of a recent custom order I completed.
If you've ever wondered how custom jewellery is made (or maybe you're just curious) grab a cup of coffee and read on.
---
1. The Brief
The story starts with a very special lady who was about to celebrate her 60th Birthday.
Her daughter wanted to give her something extra special to commemorate it.
As she knows me and likes my work, she decided to ask me to make a pair of earrings for her Mum.
After a detailed conversation with my client we established "the brief".
(It's at this point in the process that I value my previous professional background as an IT Business Analyst, which taught me to ask lots of questions to fully understand my client's needs.)
In this case she wanted something quite simple in design as her mother dosen't wear a huge amount of jewellery.
Her mother has a ring which she bought in the Isle of Skye which she wanted me to use for inspiration, but not necessarily to match exactly.
To help with the design she kindly sent me pictures of the ring in question and of her Mum (who I have to say looks lovely). I find it so much easier to design a piece when I can see the person I am designing for.
2. The Design
The first step was to come up with a design that she would love.
This involved a little bit of research in this case.
The ring she has is a celtic knot design, which is actually quite complex as a design.
(In case you are interested, celtic knots symbolise the interconnectedness of all things.
They have no beginning and no ending and have quite a history to them.)
I then spent time coming up with a series of drawings and ideas of how this could be represented in a simple pair of earrings.
3. Options
As with all my work, I never like to feel that I am imposing my ideas on my client without giving them much choice or input.
To ensure that my client was involved as much as possible in the process I came up with a number of different design options for her to comment on and choose between. Some were more complex in line with the celtic knot ring and some were more simple in line with her original thoughts.
The design she chose meets her requirements of being a simple design,
yet at the same time takes it's inspiration from the inside pattern of her celtic knot ring.
4. Crafting the Piece
Now for the fun to start!
The design was drawn to the required size, copied onto paper and stuck onto the silver sheet
ready to be cut out.
It's usually at about this point that I suddenly doubt my ability to turn this rough and quite ugly looking metal into something beautiful!
Looking at this picture I hope will give you an idea of where I'm coming from – this looks nothing like the design I had imagined.
Luckily it's amazing what a spot of filing can do (plus a determination instilled in me from an early age
– maybe that's something I was taught during my Girl Guiding days?).
I found myself regularly checking back against the original pictures of the ring and
the lady I was making them for, just to make sure I wasn't going off track.
It's lovely (and if I'm honest a little bit of a relief) to see a very special and unique design like this coming to life.
5. The Finished Piece
Once my client's custom earrings were finished I took a quick photo and sent it to my client,
just to make sure she was completely happy with my work before I sent it to her.
In this case, as she was local I was able to arrange for hand delivery of her very special gift.
I really hope her Mother loved her present – I'm sure she would have appreciated how special her earrings are, designed and made especially for her by her daughter.
Do you have a piece of jewellery which is particularly meaningful to you?
It would be great to hear it's story.
P.S. If you would like to know more about my custom jewellery service do get in touch – I would love to hear from you.
---