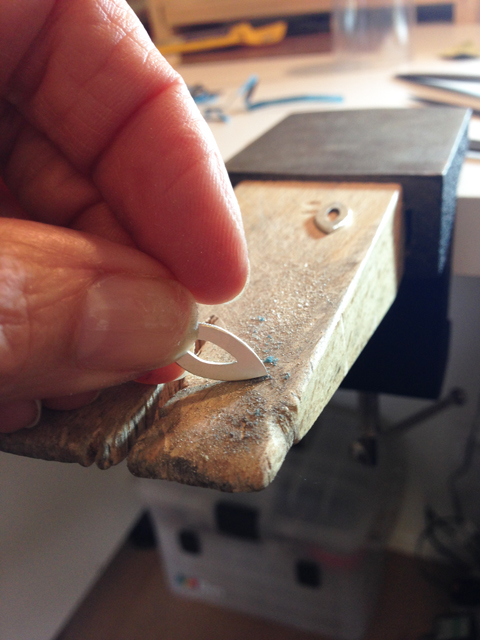 Where are your workshops held?
Workshops are held in my home studio in Stanthorpe, Queensland.
Are your ear wires sterling silver?
Yes. All silver earrings have Sterling Silver ear wires unless otherwise stated.
Is it possible for you to make a necklace a different length for me?
Yes it is often possible to make a necklace a different length. Please contact me letting me know your requirements and I will let you know what I can do for you.
Do you design and make Custom Bespoke Jewellery?
Yes. If you would like me to make something specific just for you please get in touch and we can discuss your requirements further.
Why buy Handmade Jewellery?
When you buy handmade jewellery you are buying quality jewellery directly from the artist. Individually made with passion and care, these are often one of a kind pieces. Handmade jewellery is not cheap, poor quality or mass produced. By its very nature, you will never see someone else wearing exactly the same piece of jewellery as you. If you are buying a gift this is an added bonus as you can rest assured that the gift recipient will not already have one.
Questions & Answers about Lampwork Beads made by Jocale Design
Are all your beads handmade?
Yes. Unless otherwise stated all Glass Beads used in my designs are individually handmade by me using quality italian glass.
How long does it take to make a bead?
The length of time it takes to make a bead depends very much on the complexity of the design. It can take anything from a few minutes to half an hour or more to make just one lampwork glass bead.
How are Lampwork Glass Beads made?
Click here to see how lampwork glass beads are made.
Or here for more information about Lampwork.
Where is Jocale Design Jewellery made?
All Jocale Design jewellery and beads are handmade in my home studio in Stanthorpe on the beautiful Granite Belt, Queensland.
What is the difference between imported lampwork beads & beads handmade by Jocale Design?
Put simply the difference is Quality and Attention to Detail.
Imported lampwork beads from India, China, etc. are inexpensive because they are made with cheap glass and are mass produced. There is poor quality control and beads are more likely to crack or break as they are not kiln annealed. These beads are usually dusty as they have not been properly cleaned inside.
Jocale Design beads on the other hand are individually handmade with great care using High Quality Effetre (Moretti) Glass. They are Annealed overnight in my digitally controlled kiln to ensure Strength and Durability.
They are then hand reamed under running water to remove any remnants of bead release from inside the hole.
Do Jocale Design beads fit Pandora or Trollbeads bracelets?
No. The beads I make are not designed to fit these bracelets.
Questions & Answers about buying handmade jewellery from Jocale Design
Where can I buy Jocale Design handmade jewellery?
A small selection of my jewellery is available at Stanthorpe Regional Art Gallery.
What payment methods do you accept?
I currently only accept payment online by Paypal.
Alternatively if you live in the Brisbane area you are welcome to collect your jewellery in person and pay by cash at the time of collection.
What are your shipping and refund policies?
Please click here to view my online shop policies.
And Finally
Where does the name Jocale Design come from?
People often ask me where the name Jocale Design came from. When I was first setting up my business my husband came across the word 'jocale', which derives from the Latin for jewel or play thing. This seemed to fit well with the work I was doing and it has stuck with me ever since.